Making the Most of Small Garden Spaces
It's true that working with a smaller garden can be tricky. However, with the right thought and planning, you can create a beautiful (and low maintenance!) space. Here are some of our tips and ideas for making the most of small spaces this summer:
Have a clear idea in your mind
Before you start working with any garden space, it's important to have a clear idea and plan in mind. What kind of space are you looking to create? Perhaps you want to use your garden for entertaining and dining. Or maybe you just want a place to lounge and relax on those summer days.
When working with a smaller space, it's better to have one or two clear features rather than lots of small ones. If you want multiple uses out of your garden, you may find it helpful to section your space. 
Utilise containers, climbers and hanging baskets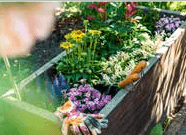 If you don't have much flower bed or lawn space to work with, containers and hanging baskets can be a brilliant addition to your outdoor area. Fill them with your seasonal favourites and bring some colour to your garden whilst saving space. 
Make sure you think vertically too. Climbing plants, such as Wisteria and Sweet Pea, give you the option to add more foliage to your garden without compromising on space. These types of plants climb as they grow, covering your walls and fences. 
Choose the right furniture
The right set of garden furniture can really help you feel as though you've taken the indoors outside. We have a range of smaller, space-saving furniture available here at Summerseat Garden Centre.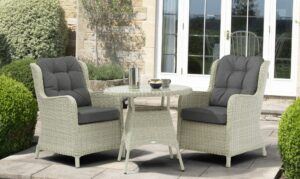 Avoid using floor space with a hanging egg chair, or enjoy your morning coffee out in the garden with a stylish bistro set. Bistro sets offer style, elegance and can easily be moved and stored for when you need the space back.   
Click here to browse our full range of garden furniture or visit us in store. 
Mix it up
When it comes to plants, don't be afraid to go for a mix of different sizes. Smaller plants are a great way to fill space. If you do not have the space to create a beds why not look at pots, containers and hanging baskets. Violas and Pansies are great at adding a colour to your space, whilst ferns and grasses work well in shade and can create structure. If you're looking to grow your own this year but are working with a smaller garden, don't be put off. There are plenty of space-saving options when it comes to growing your own, for example strawberries in hanging baskets.  
Whatever size and space you're working with this summer, for more tips and advice on how to make the most of your garden, visit Summerseat Garden Centre.