Your Autumn Gardening Guide
Late August to early November is a great time for gardening, the weather cools down and soil will be the perfect temperature to plant spring bulbs. Our top tips will help you prepare your garden in time for Autumn.
Things to do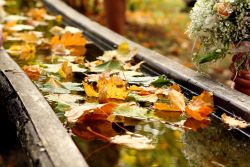 Start by cleaning up your garden, by removing any dead leaves, vegetables, or flowers. This can help prevent disease and pests from spreading.  One place we always forget to clean are gutters. Regular cleaning throughout autumn will prevent any unwanted leaks.
You can compost your leaves with some food waste or grass clippings to use in next year's garden.
Protecting Flower beds
During warm and dry spells, apply a layer of mulch around your plants to help insulate the soil and retain moisture. Mulching also prevents weed growth, adds an aesthetic appeal to your garden and insulates roots from winter frost.
Snip Snip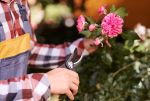 Deadheading is a key gardening duty this season, the removal of spent flowers will help more flowers to grow and improve plant health. Wisteria, while beautiful, will overflow into every corner of your space if left unchecked.
Fruit trees and bushes that need to be trained should also be pruned – don't delay this as it will allow sunlight to better reach and ripen the fruits.
Watering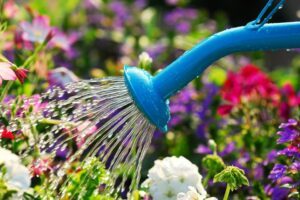 Feeding and watering your plants during warmer months is important, to keep them looking at their best for longer and to help establish new plants.  If you are planning a summer holiday, don't forget to ask a neighbour or family to water your plants while you are away.
You can do your part in reducing your water use, by collecting rainwater. Rainwater is naturally better for plants than tap water. You can do this by using an inexpensive but very useful water storage unit outside, or another simple idea is leaving your watering can outside to collect rainwater.
Start reducing the amount you water and feed your houseplants in September, unless they're still producing a good amount of flowers. The compost should be almost dry between watering.
Collect your seeds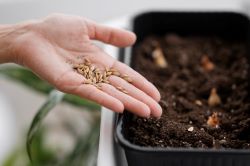 Now is the time to scan your garden for seeds you would like to replant for next year. Pick only from the plants that look healthiest and performed best this year so you can get the best out of them next year.
Seed heads need to be watched carefully as there is a narrow window between them ripening and the seeds being dispersed.
Bulb planting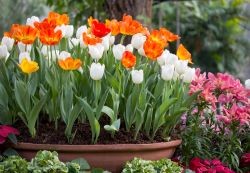 Plant spring-flowering bulbs like tulips, daffodils, and crocuses in the autumn. This will ensure that they have enough time to establish their roots before winter and bloom beautifully in the spring.
Autumn is the perfect time to plant cool-season crops such as lettuce, spinach, kale, carrots, and radishes. These plants thrive in cooler temperatures and can withstand light frost. Potatoes are one of our beloved vegetables, we stock a variety of potato seeds, if you plant them now they will be ready in time to enjoy for Christmas dinner.
Divide and transplant perennials
Help rejuvenate annual plants and promote better growth, by dividing and transplanting perennials in your garden. Simply lift themgently with a fork, divide them into smaller sections and replant as soon as possible with a top up of compost. Be sure to keep them well watered afterwards to help them re-established.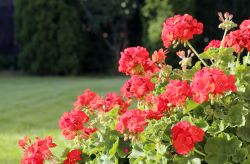 Lawn care
Keep up with your lawn care routine by regularly mowing, fertilizing, and aerating your lawn. Autumn is also a good time to overseed your lawn to fill in any bare patches.
Brighten up your garden
Planting some colourful mums, ornamental grasses, or autumn-themed decorations will create a warm and inviting atmosphere.
As the days start to shorten and the temperature cools, you could enjoy your garden for longer with solar lights and a firepit. Browse our range of stylish firepits and solar lights in our Outdoor Living SALE.
Visit Summerseat Garden Centre, we stock a wide range of gardening tools, bulbs, essential plant care and garden accessories to help you prepare for the busy gardening season ahead.
Happy gardening, enjoy Autumn.